GOOD CLEAN FUN WITH GOOD CLEAN MUSIC.
Rock the Flock is a Christian entertainment company that has been providing family friendly entertainment for over 25 years for wedding receptions, school dances, Father Daughter dances & fundraisers. You can rest assured there will be no inappropriate music, activities or comments at your event.
Chuck Towns is the Owner/Entertainer of Rock the Flock. Having done hundreds of weddings and youth events, he has the knowledge and experience to make your event a memorable success. He is a dependable resource you can trust. This is not a hobby, it is his full time profession.
Chuck's background includes working for over a decade at two area Christian radio stations as well as Lifest's parent organization, Life Promotions. He is a gifted entertainer and is passionate about serving others with professional excellence to create lasting memories. Chuck is also a gifted speaker for churches, schools and youth conferences.
Our 50+ Five Star ratings speak to our success. We strive to follow Biblical principles and incorporate them into the services that we provide. We operate with the highest level of professionalism, ethics and integrity.
Rock the Flock has done events in Wisconsin cities like Appleton, Oshkosh, Green Bay, Wausau, Madison & Fond Du Lac, as well as Michigan and other states. 
LET'S TALK ABOUT PRICE…
Why is there such a wide variety of pricing among DJs?
It's simple. You get what you pay for.
There are many factors that determine worth.
Years of experience
Reputation
Age and reliability of equipment
How many events they do a year. (supply and demand)
With Rock the Flock, you get experience, dependability and value from a passionate and dedicated entertainer.
Our fees vary depending on a number of factors.
Type of event
Location of the event
Day of the week and month.
Equipment needs.
Although our level of experience surpasses most, our rates are right in the middle.  We also offer significant discounts for Churches, Schools and non-profit organizations.
Call, text or fill out the form below to get a specific price quote for your event.
FREQUENTLY ASKED QUESTIONS
(AND OF COURSE, THEIR ANSWERS)
Who will be the DJ at my event?
The Owner and Founder of Rock the Flock, Chuck Towns, DJs every event personally. All communications, planning and in-person meetings are with the same person that will be there on the day of your event.
Do you take song requests?
Yes, we encourage song requests but will only play those that are appropriate.
How far are you willing to travel?
Most of our events are in the state of Wisconsin. We have also done youth conferences in IL, IA, AZ, MI, MO, OH, PA, KS, NC, NE & WA through Life Promotions.
Are you insured?
Yes. Rock the Flock is a legitimate business. We are fully insured and pay all applicable local, state and federal taxes.
What kind of equipment do you use?
We use top of the line industry standard brands like JBL, QSC, Yamaha, Shure, American DJ, Chauvet & Martin.  While our equipment is designed to withstand the rigors of mobile use, we carry backup equipment just in case.
Will it still be fun even if it's clean?
Ahhh, the question no one wants to ask.
This question is best answered by our 50+ 5 star Facebook ratings. If it weren't fun, would we still be in business?
How do I reserve my date?
We send you a simple one page agreement listing all of the details and policies. A signed agreement and a 50% booking fee reserves your date.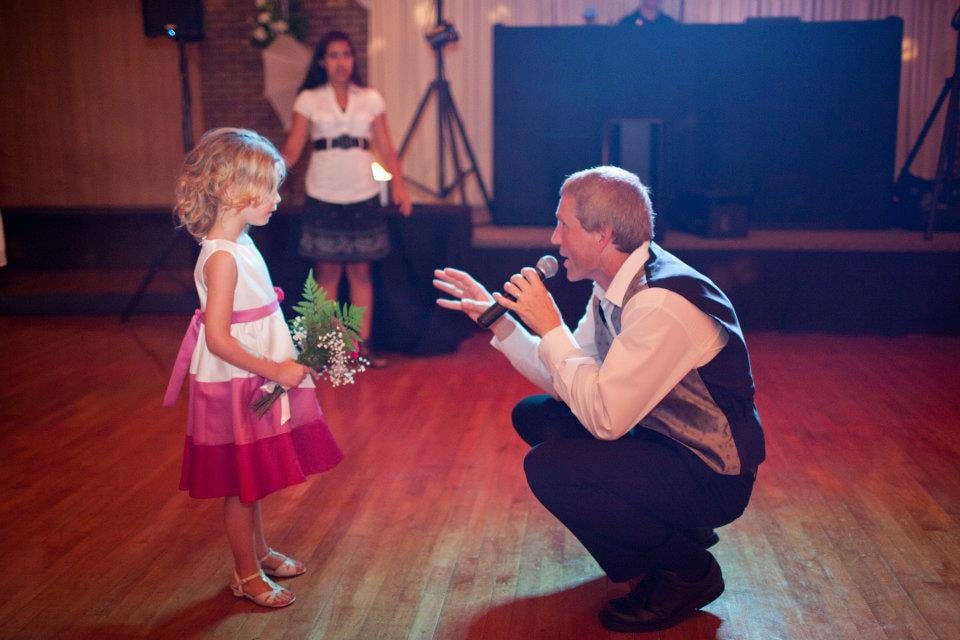 Don't just take our word for it…
Here's what other couples and event organizers have to say about their experience with Rock the Flock:
CONNECT WITH US SO WE CAN GET THIS PARTY STARTED!
Rock The Flock Productions